PRODUCT OR SERVICE
DUX Local City Guide (Augmented Reality-Based Mobile-based Marketing System) — Premium Membership
Created by an Ontario-based developer for small biz., harness a novel new way to stand out and attract customers directly on their phones by combining the power of Groupon with the fun of Pokemon Go.
Harness a novel new way to

stand out and attract customers

right on the street, right on their phones.
Register at:  dux.city/digital-mainstreet-exclusive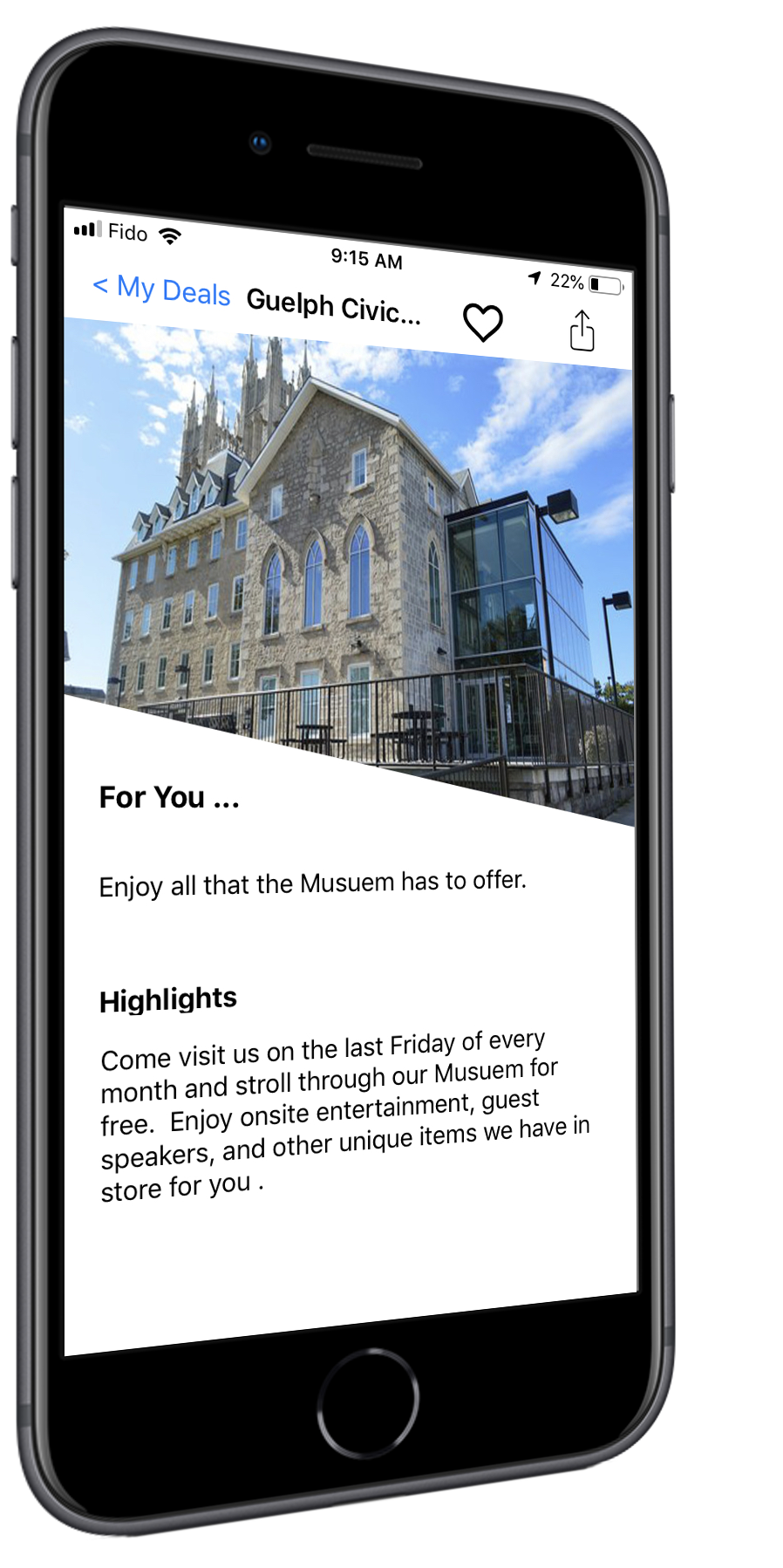 What is DUX?
Think Groupon meets Pokemon Go.
DUX is an app-based culture, tourism, and deal finder system that combines Augmented Reality (AR) with 2D maps, geolocation, social sharing, and more.
Locals and tourists receive the latest deals, discounts, and fascinating insights on local finds for:
Cafes
Famous Sights
Food & Drink
Hotels
Indoor Activities and Games
Live Music
Museums
Nature & Parks
Nightlife
Outdoor Excursions
Restaurants
Services
Shopping
Sites of Interest
Spas & Wellness
Tours
& more
Why DUX?
Don't let your marketing spend end up in the trash.
We've all used brochures and flyers and coupons and print ads to reach our customers. And we've all seen their success steadily decline over time. They're costing more money, yet they're bringing less and less customers through the door.
Your customers always lose the brochures, forget their coupons, and misplace the maps.
With DUX, you are able to engage and interact with your audience at an entirely new level that is an evolution beyond web / social / email campaigns.
While current legacy digital campaigns will continue to have their place and success, you can now become part of a new era in hyper-local street-side digital engagement.
DUX engages your audience right on the street (or right in their homes), and right on their phones using Augmented Reality (AR), mapping, social interactions, and much more.
Join the DUX community today and uniquely stand out by sharing your stories and promotions directly with your audience in a way that they will love.
Your Cost
$397 — Exclusive Digital Main Street pricing (save $800)
Register at:  dux.city/digital-mainstreet-exclusive
What You Receive
Through this exclusive Digital Mainstreet offer, you will receive:
6 months of DUX Premium Membership
Over $760 in savings/bonuses


Your DUX Premium Membership includes:
Business Logo/Photo/Description
24/7 Deal Manager Access
Augmented Reality (AR) Listing
2D Map Listing
Category Listing
Directions to your business
Call your business
Email your business
List Multiple Locations
List Multiple Photos
List Multiple Deals
Link to your biz Facebook
Link to your biz Twitter
Link to your biz Instagram
Link to your biz YouTube
Bonuses
We recognize the financial strain being experienced by local small businesses right now and have gone to great lengths to make DUX membership as accessible and affordable to as many businesses as possible.
Your exclusive Digital Mainstreet offer thus includes the following bonuses:
BONUS 1 — 50% off Premium Membership Pricing

Receive a 50% discount off the regular Premium Listing fee for 5 months of system access.  (Value of $725)


BONUS 2 — FREE Setup

Our DUX Guides will connect with you to personally set up your company and all information on the system, at no charge.  (Value of $295)


BONUS 3 — FREE Additional Month of Access

As a THANK YOU, receive 1 additional month of system access, giving you unlimited DUX 24/7 access for a total of 6 months. (Value of $145)
About Midnight Illusions Ltd. & DUX

We are a Guelph-based digital media solutions company with over +20 years experience in the digital space.  Having been developing mobile apps since 2012 (and websites since 1994), we bring a wealth of award-winning experience to our diverse Client base.
DUX was designed from the ground up to specifically meet the needs of local small businesses and is built upon 3 years of technical development and 18 months of R&D/testing. 
 
Join the DUX family!
Join the DUX family today and stand out by sharing your stories and promotions directly with your customers, through an experience they won't soon forget.
DUX and Midnight Illusions Ltd. are based on 3 core principles:
Create • Contribute • Evolve
Everything we do centres around these fundamental goals.  It's a pleasure to invite you to DUX!
Join today:  dux.city/digital-mainstreet-exclusive