PRODUCT OR SERVICE
Zoho One - The Operating System for Business
When Apps Work Together, Your Business Runs Better. Zoho One gives you one suite of more than 40 integrated business and productivity applications for your entire organization incl. CRM & marketing
The Operating System For Business
Zoho One is a revolutionary all-in-one suite to run your entire business—an unprecedented 40 integrated applications on one account, with complete administrative control—for a price that will change the way you think about buying software. They're calling Zoho crazy on this one.
Zoho One: The All-in-One Suite.
Zoho One includes more than 40 integrated, online applications with complimentary mobile and native versions, along with many extensions and extras. All applications are fully-featured, enterprise editions, giving you everything you need to grow sales, market your business, do your accounting, communicate with teammates and customers, and much more.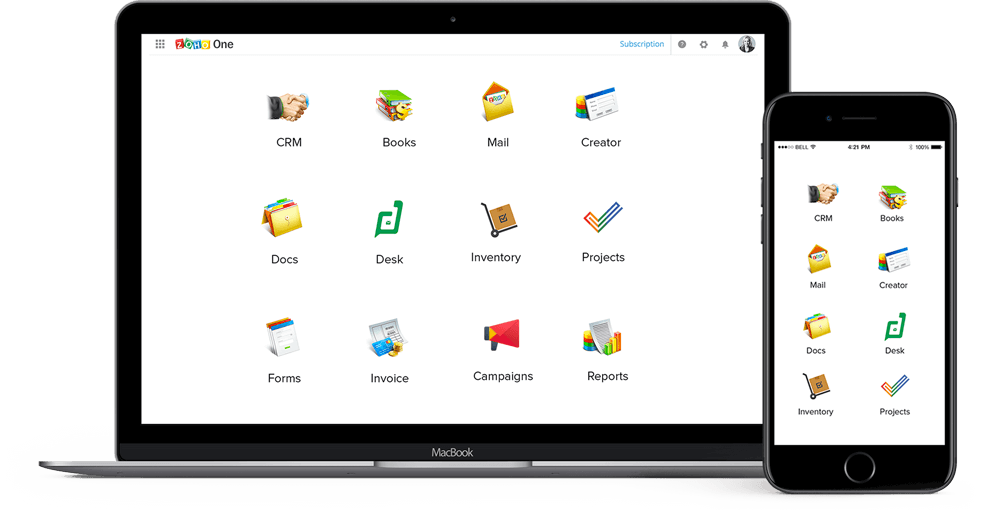 Zoho One all-in-one sales, marketing and business suite is PERFECT FOR:
a new business start-up
solopreneurs
businesses looking to manage their sales processes
businesses looking to manage and automate their marketing
Who Uses Zoho One
retailers
manufacturers
distributors
professional service providers
industrial supply
government
not-for-profits
Unmatched Integration
Zoho One connects your sales, marketing, customer support, accounting, and more, while also giving you contextual integrations to communicate and collaborate with colleagues, customers, and vendors. With an integrated suite like Zoho One, you'll always have the right information in the right places, empowering your employees to do great work. Traditionally, this has required an astronomical IT budget and an army of consultants to force everything together. Zoho One makes all that cost and complexity a thing of the past.
One Account. Complete Control.
Zoho One gives you one secure account for all your applications and complete administrative control. You'll finally have one set of credentials for the entire suite, rather than a long list of passwords for the different apps you use. Zoho One also puts owners and managers in complete control over business data. From employee and team management to application access and organization-wide security policies, Zoho One gives you the power to run your business efficiently.

No credit card required. Some of the apps can be used free until you reach specific limits or require features not available in the free version..  Have questions – call us 905-734-8273.  
If this all seems a bit much there are a variety of other options available as well. We can get you started. 
---
PRowl Communications works with Zoho One and a variety of clients to accomplish their sales and marketing goals.
Ask about our onboarding, training and managed services. Use Promocode DMS20 for a 20% savings on our onboarding, setup or training services.