Do you want to do more with Instagram Stories? Wondering how to create Instagram Stories that engage viewers?
To explore how to create compelling Instagram Stories for business, I interview Alex Beadon on the Social Media Marketing Podcast.
Alex is an Instagram Stories expert who specializes in helping people use Instagram for business. Her course is Gram Slam and her podcast is On Purpose With Alex Beadon.
Alex shares ideas for creating engaging Instagram Stories. You'll also discover what makes for good story content, find tips for engagement, and more.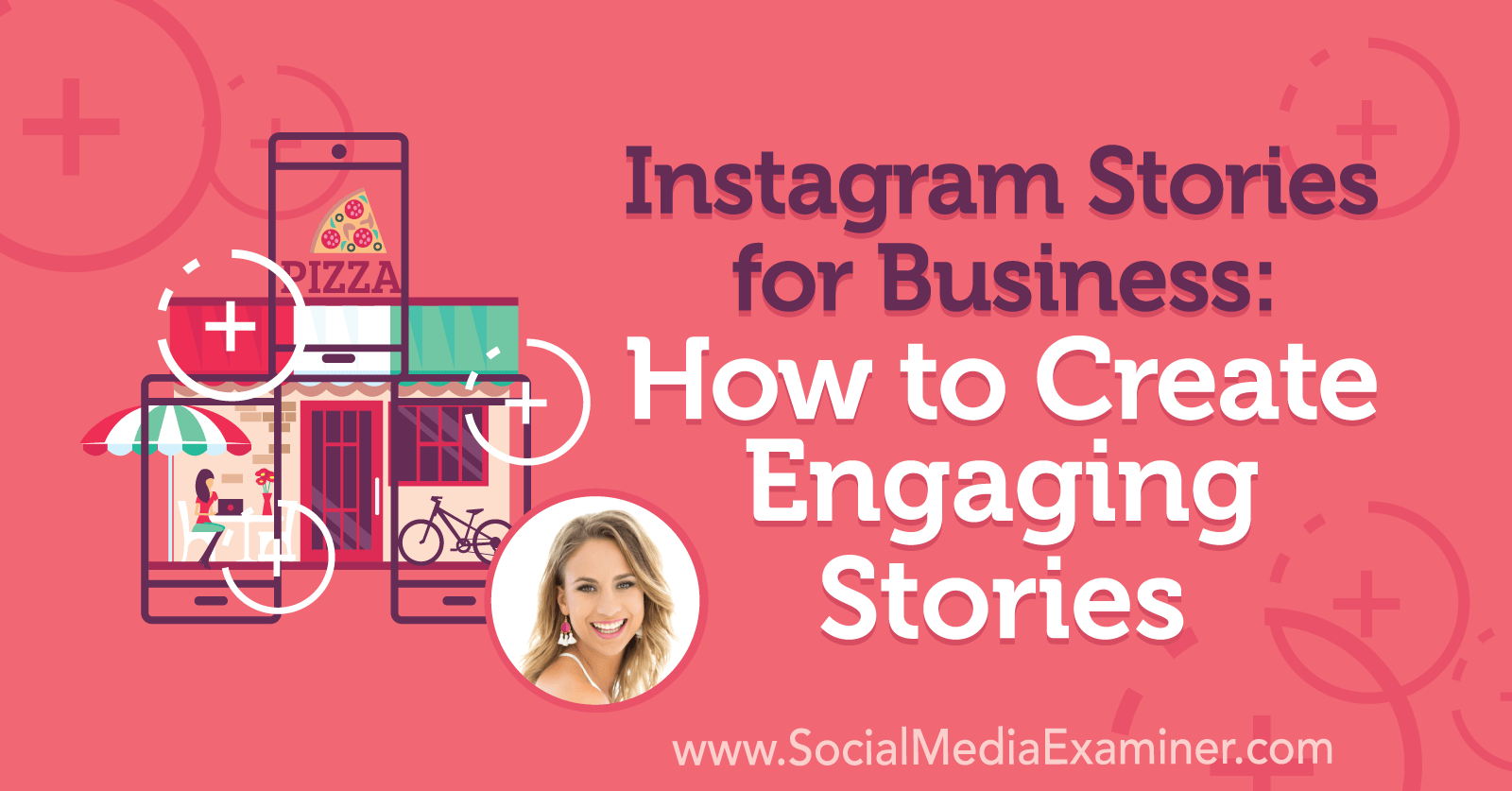 Getting Started With Instagram
Alex's work with Instagram started with her passion for photography. Shortly before graduating with a marketing degree from a university in London, Alex knew she wasn't interested in joining the corporate world and decided to try her hand at photography.
Creating Content Nonstop
At the same time, she also began blogging and putting herself out there on social media. Within 2 years, she organically built a massive audience of people who shared her interest in photography just by consistently creating content.
Realizing that her audience is made up of professional photographers who mainly shoot weddings, she sought to monetize this following by selling Photoshop actions. These digital files function much like Instagram filters and allow you to do things like change color photos to black and white or give them a vintage look with the click of a button within Photoshop.
While other photographers don't like the process of editing photos, Alex discovered that she actually loves that part of the business. She was already creating Photoshop actions for herself. She had amassed hundreds of them when it occurred to her that other photographers might be interested in them too.
The first day she began selling her Photoshop actions, she kept getting PayPal notification after PayPal notification. Before she knew it, she had built a six-figure business within her first year and all without spending any money on advertising. She figured she had found her life's work and was prepared for things "to be smooth sailing from here."
Switching Course
Of course, life threw her for a little loop, as it usually does. She woke up one day and was no longer passionate about photography. She had no interest in picking up her camera and taking photos. At that point, she decided to start creating courses instead. Her first course, the School of Killer Impressions, was all about online marketing, email marketing, sales, and more.
Then in 2013, Snapchat released its Stories product and she was hooked. Until this point, Alex had experience producing content for YouTube; however, she found that Snapchat allowed her to form a deeper connection with her audience. The biggest downside was that people generally had a negative, judgmental first impression of Snapchat Stories at the time. They were skeptical of the potential value of videos that disappeared within 24 hours.
Moving From Snapchat to Instagram Stories
By 2016, Instagram introduced Stories to its platform and changed the game, according to Alex. The first year after Instagram introduced its own Stories product, Alex realized that it has much more business potential on Instagram than there ever was on Snapchat. Alex uses Stories as her main delivery method for sharing, marketing, and promoting what she does.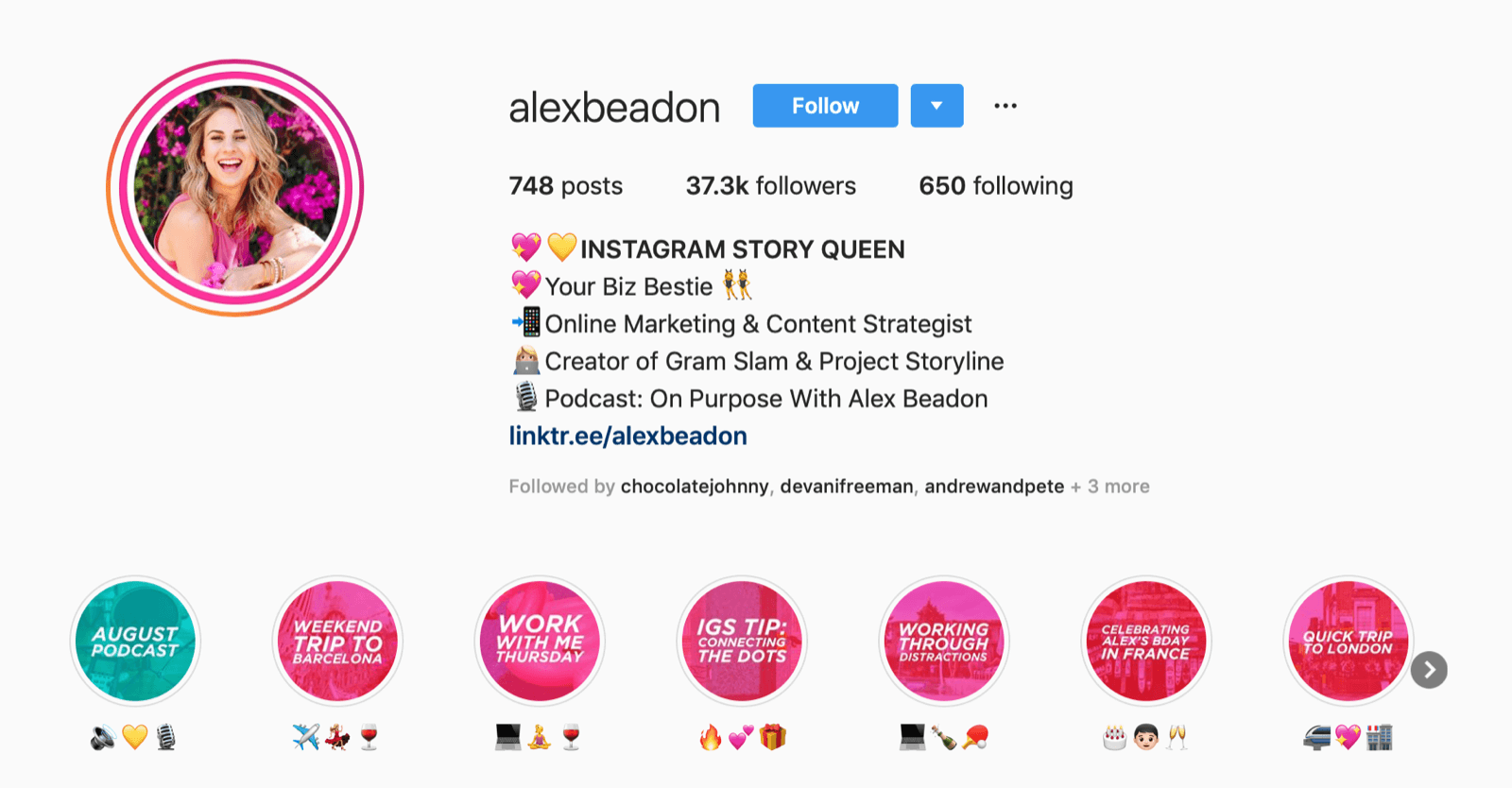 Over time, Instagram Stories has started to become more mainstream and it's the number-one thing people ask Alex about. At the end of 2017, it became clear to Alex that she needed to create a course about Instagram Stories, which she called Gram Slam.
Alex is now solely focused on teaching about Instagram Stories, both the functionality of it and how to use the best of its abilities. This course focuses on all of the tips, tricks, and hacks she's learned along with way, as well as Stories' importance from a branding and business perspective.
Instagram Stories for Business
There are currently 1 billion monthly active users on Instagram worldwide. Of those, 500 million accounts watch Instagram stories daily. These are huge numbers that businesses shouldn't overlook. Yet Alex thinks that Instagram Stories is only in the beginning phases. While it might appear that "so many people are making stories," there's still much more potential for growth.
Almost all of the innovation on Instagram is inside of Instagram Stories. The company is constantly coming out with new features and functions inside the Stories set. For instance, stories are now intermingled with feed posts.
I add that Instagram stories are designed to take over the entire screen, leaving nothing to distract the user from that content. Because the interactions are between the user and whoever is delivering the story on-screen, there's a feeling of closeness. It becomes more real and authentic communication and people are actually responding so well to it.
Comparing statistics from before and after the introduction of Instagram Stories suggests that people spend almost 50% more time in the app because of Stories. Not only are people watching stories, but they're also staying longer in the app to watch them. From a business perspective, Instagram Stories is valuable real estate and definitely a place where every smart marketer should spend time.
Ideas for Creating Instagram Stories
Alex shares several creative ideas to empower everyone listening to start creating more content for Instagram Stories.
Post Content Consistently
There's this idea that if you're using Instagram Stories, you need to post content every single day. Alex says that this isn't true. You don't need to post every day, but you should post consistently at a pace that works for you. Whether it's only once a week or three times a week, stick with a set schedule that your audience can depend on. The frequency is up to you, but people should be able to know what to expect from you.
Create a Weekly Series
Implement a weekly series. This lets people know that they can expect to hear from you on a set day. It gives them something to look forward to and becomes another layer where people can connect with you.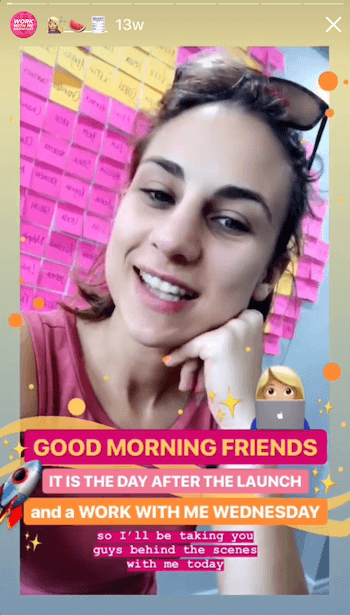 Alex currently has a series called "Work With Me Wednesdays" on Instagram Stories that gives people a peek at what she's doing that day. She updates viewers along the way, answers questions, and encourages them to respond through direct messages.
When creating a weekly series for your own Instagram account, look at what contextually fits your business model and examine what would be relatable and relevant to your ideal client. You can offer a "Tips on Tuesday" series or come up with another creative, catchy name that can become a trigger for your audience.
Your series can be whatever you want it to be. You can spend as little or as much time on it as you want. Mix different kinds of content—from photo and video to screenshots from your phone or computer—in your series. Experiment and have fun with it.
Listen to the show to hear more on how Alex structures her "Work With Me Wednesdays" series on Instagram Stories.
Develop How-to and Advice Content
Use Stories to share a how-to or advice piece intended to add as much value as possible for your viewers. As marketers, this should be a familiar tactic. Picture your ideal client and think about what type of content they might be into. What will make you their go-to source and make them excited every time they see a new story from you?
Any business can create tutorials or share advice related to their products and services. Alex shared the example of an ice cream shop that could create content about the quality of their ice cream. They could develop videos that teach people how to make ice cream, share fun facts about their ice cream, or give followers a look at their own ice cream-making process. A local business like the ice cream shop can also look beyond their own business and share local events or community interest topics.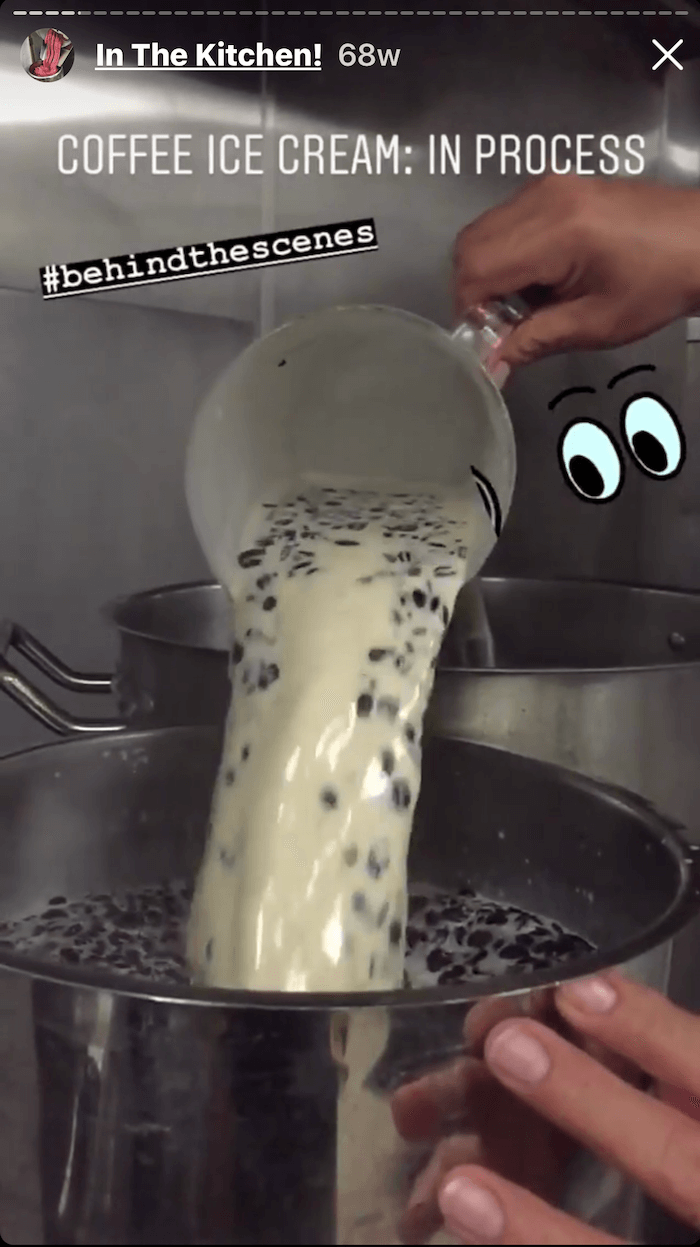 As for generating advice content, keep a running list of common customer questions as they come up and answer them in a story. If one person asks a question, chances are others would like to know the same thing. Publicly sharing your response could benefit more people. This process also ensures you'll never run out of fresh content ideas for your stories.
Run Promotions
Share fun promotions on Stories that go beyond a discount. Although discounts are important and great, Alex encourages marketers to get creative and find other ways to persuade customers to buy. Highlight your customers and celebrate their wins. Share testimonials or a new product launch. Use your stories to create social proof or promote a hashtag.
Every time Alex sells an online course, she writes the person's name on a Post-it note and puts it on a wall. She documents as the Post-it note wall grows through her Instagram Stories, which lets her students feel like they're interacting with the momentum of her launch. They love seeing their name on that Post-it note wall and they get so excited.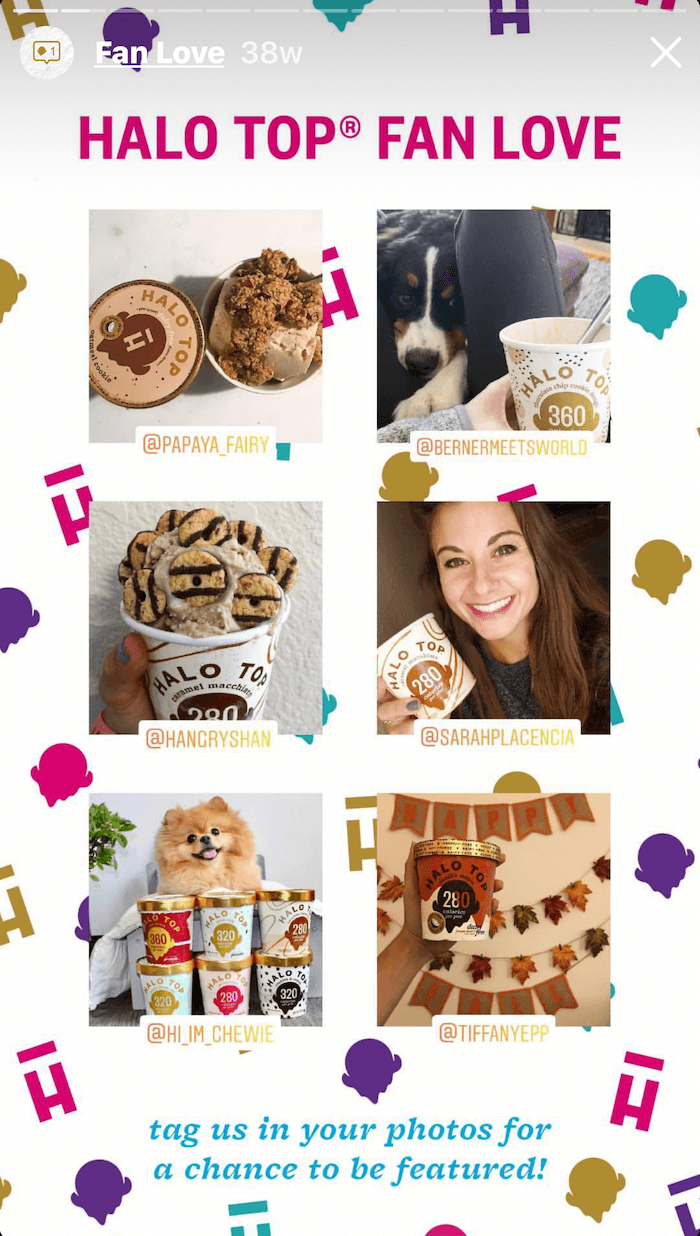 Go Behind the Scenes
There are so many ideas for sharing a behind-the-scenes look at your life and your business through Instagram Stories. Look at whatever situation you're in and create a list of the things happening around you that your customers might benefit from knowing or be interested in seeing.
Explore everything and definitely don't underestimate your own situation. Something might be "boring" or "mundane" to you but someone else might find it fascinating. You can even show some of the crazy or ridiculous stuff that even your loyal fans and customers would never see.
Alex finds that her stories that she thought were the most boring are some of her best. Even sharing the common-sense tools and software she uses every day or making coffee every morning are interesting to her audience. This is because these otherwise ordinary stories bring people into her real life. This type of content resonates with people more than the glossy, perfected images people usually try to project on social media.
Your behind-the-scenes stories can be about anything—from what goes into making your product to getting to know your team. One jewelry brand shared one story for each team member and their favorite piece of jewelry. It was simple, but a great way to make their followers and customers feel more connected to that business, show that there are real people behind the brand, and have some fun with Instagram Stories.
Listen to the show to hear about the time I shared how I got into a car accident on the way to the convention center on my docuseries, The Journey.
Ways to Optimize Instagram Stories Traffic and Views
Be Succinct With Your Stories
Alex advises keeping your stories as short and sweet as possible. Get to the point and don't let them drag on, one into the next, so that the line of little dashes on top of the screen that tells you how many stories there are to come adds up. A series of 10 stories at any one time is a good number to aim for until you're a pro or a really good storyteller.
Alex cautions that unless you're taking people along a storytelling journey that flows well and is fun, a very long line of dashes may be off-putting to your audience. This is especially the case if you're posting multiple random tidbits and information daily. They add up from one day to the next and can pile up.
There also tends to be a drop-off as a series of stories progresses. A lot of people find that their first story has many views, but the last story has much fewer views.
For a how-to, step-by-step tutorial or a weekly series, Alex suggests pushing all of the stories all at once so they appear and then expire together. Then post something once every 4 hours to push your stories to the front of the news feed again.
Integrate IGTV With Your Instagram Stories
There are many different ways to link stories into other parts of Instagram. For instance, you post a story about your product and then use the swipe-up feature to take your followers to a longer video about it on IGTV.
From there, you can include a URL to your site or sales page in the IGTV description. IGTV is the only place on Instagram that allows you to add an offsite link somewhere other than in your bio.
Alex notes that a lot of people don't know that even if you have fewer than 10,000 followers, you still can swipe up to an IGTV video in your Instagram stories.
Optimize Your Instagram Bio Link
Another tip from Alex is to use the link in your Instagram bio wisely. She uses a free service called Linktree to optimize the link in her Instagram bio. This tool allows you to house different links on a single page and direct all of your Instagram traffic to it.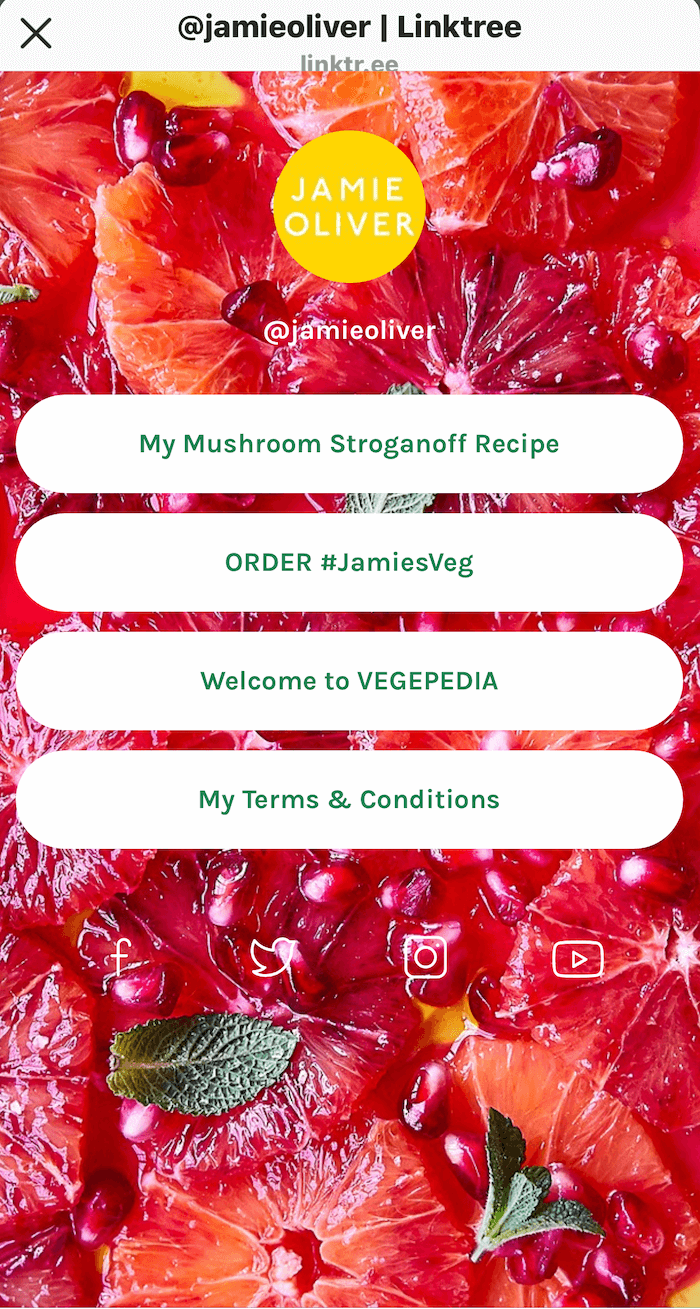 You can link to anything you like and have the option to switch the links at any time while still maintaining the same URL on your Instagram bio. Alex updates her links every week depending on if she wants to feature her podcast episode of the week or send people to a sales page.
Elements of a Good Instagram Story
Follow a Story Arc
A story is called a story for a reason. There should be a definite beginning, middle, and end to your story, like a good book or interesting anecdote. Even if you're randomly posting different stories throughout the day, there should be good flow and each element should relate to the previous and the next ones.
The conclusion can be a summary of what you said or shared or you can thank people for showing up. A goodbye or good night at the end of the day will do as well.
Make Your Stories Stand Out
Put effort into the way you present your stories. Consider the colors, backgrounds, fonts, emojis, and all of the other elements that could be better tied to your brand or make your stories stand out. Ensure that someone seeing the story will recognize you through hearing your voice, seeing your face, or seeing your branding.
Add captions to make every dimension of your stories stand out. Most people who are casually scrolling through Instagram aren't watching stories with their volume up. Perhaps they're out and about, and they aren't listening to the stories. If you're only talking to your camera, you're missing a huge percentage of people who are only flipping through the app.
Even if you're not captioning your stories word for word, add the gist of your message as text on the story. That way, someone who's scrolling through can fully understand and receive the value of what you're saying.
Edit Your Stories
Record in-between moments or things as they're happening, but don't post or upload them in the moment. Take the time to curate, edit, style, and listen to your stories one by one before you add them to your account.
Once you record your videos, you can save the video from Instagram Stories to your camera roll by tapping on the icon with the underlined down arrow. This can be found at the top of the screen.

Alex also uses Snapchat to record these videos because of the variety of filters and options to save videos that are longer than 15 seconds with one tap. If you try to record video longer than 15 seconds on Instagram, the app will individually save each of the 15-second increments. However, you can upload videos that are up to 1 minute long to Instagram and it will automatically slice it up into 15-second stories.
When you're ready to upload the videos to Instagram Stories, open the app and swipe from the bottom of the screen to the top to bring up your camera roll. From there, you can review all of the videos you've previously saved from your day and decide what fits best with the story you want to tell.
Tips for Using Instagram Stories for Engagement
Encourage Direct Messages
Instagram stories paired with direct messages cultivate a level of loyalty and intimacy that's not easily replicated in any other forms or platforms. Both offer a seamless transition to a deeper connection with your audience. It's so easy for people to tap that little button at the bottom of your story and be taken straight to your direct messages.
Alex's first tip for using Instagram Stories to generate more engagement for your brand is to ask people to direct-message you. Not once, not twice, but every time you share stories. Do this to show up on stories and make it super-easy for your audience to participate.
To illustrate, Alex shared in a story that she's celebrating all of her wins at the end of the month. She shared her wins and then asked her audience to share their wins with her through direct messages. When doing this, respond to as many people as possible, even if it's a double tap to show that you like it or a thumbs-up emoji to let them know they're seen and heard.
When a user responds or reaches out to you in this way, it also signals to Instagram from an analytical perspective that you should be higher in their algorithm. Your account ought to be featured at the top of their news feed and in the Stories bar.
Like with stories, the beauty of direct messages is that no one knows how many people are or aren't responding to you. Unlike likes or comments on regular feed posts on Instagram (which are still visible to everyone right now) stories interactions, watch stats, and direct messages are private. It's an intimate one-to-one experience.
Take Polls
Instagram Stories' interactive polling sticker is one of Alex's favorite ways to get people to engage and respond to your brand. She uses polling stickers for silly things like asking people which dress she should wear in one of her videos or how she should cut her hair. Although she's under no obligation to follow through on any of her audience's picks, she's still getting their opinion and showing that she's interested in what they have to say.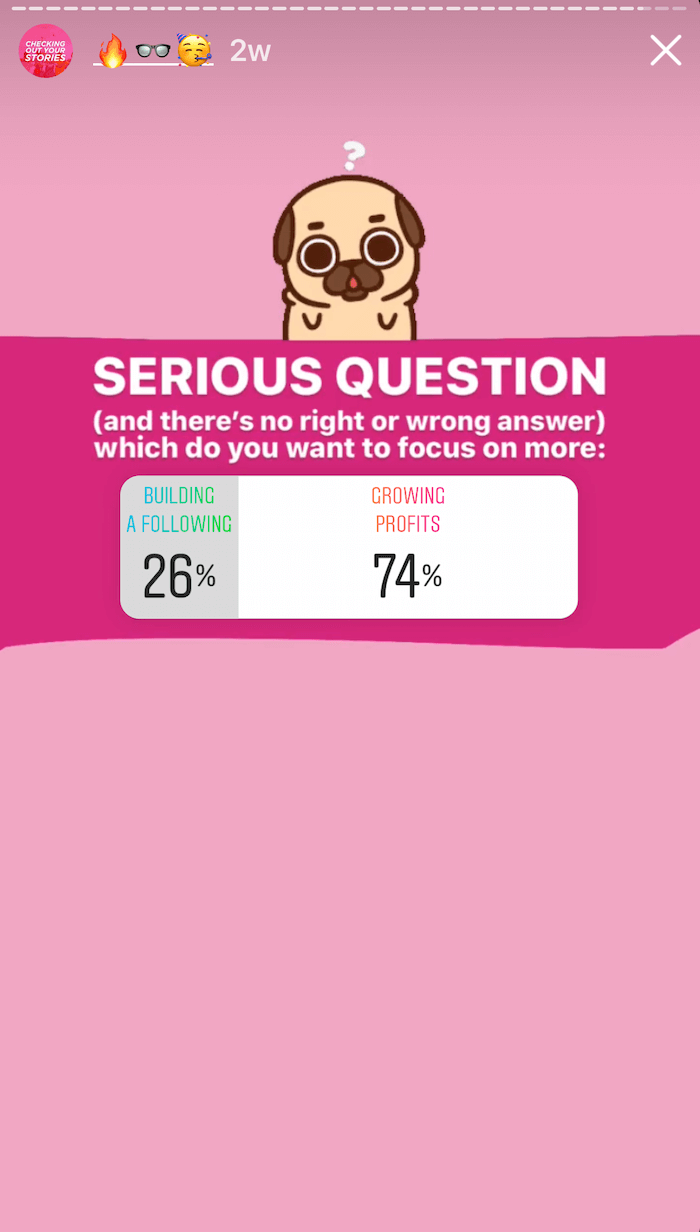 This interaction is another way to signal to Instagram that her videos matter to her audience and informs the algorithm that she ought to show up higher in their news and Stories feeds.
Alex doesn't recommend using the polling stickers or any other interactive feature on Instagram to ask difficult questions that might be hard to answer. You want to use polls for asking things that only require a quick answer like "yes" or "no" or "this" or "that."
Ask Questions
Another one of Alex's favorite Instagram features is the interactive question stickers. These can be added to your stories to allow your followers to pose questions to you. You can also use question stickers in reverse and ask your audience questions which they can then answer.
This feature is simple to use. The sticker features a little box where you can ask a question at the top and there's a blank area on the bottom where people can respond. The responses will come through your Instagram notifications where you can see a list of all of the questions or responses as you go and see how many people have viewed your story.
Each question or response you receive can be publicly shared in a new and different story. You can either respond individually to different answers or screenshot the entire list of answers that people have given you and share them. There are so many different ways you can use this feature.
Alex uses the question sticker to ask her audience things like, "What are you struggling with most when it comes to your Instagram stories?" This allows her to show off her authority, build trust, and engage with her community.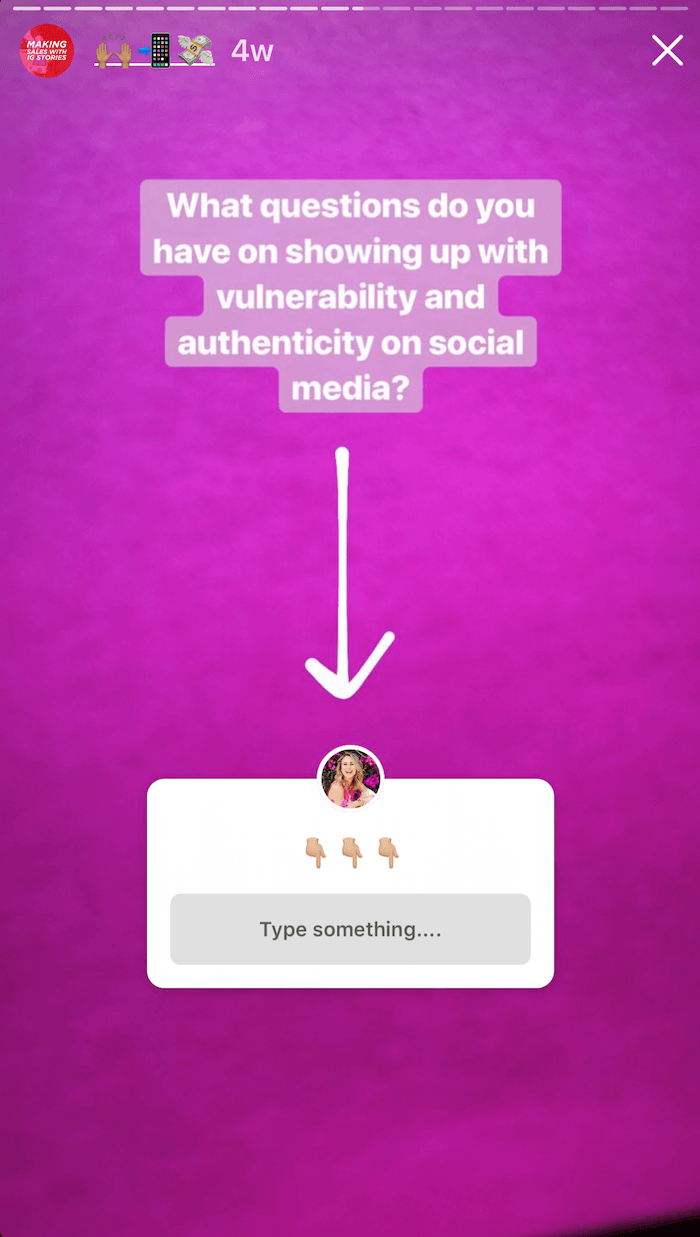 It can be a great tool for conducting market research for your brand because people want to be heard when it comes to their problems. Use questions to gather people's input on your current projects or campaigns. Ask for suggestions, even for simple things like a new brand of coffee to try or travel tips for a new destination.
Quiz Your Audience
Alex highly recommends using the quiz sticker on Instagram stories as a fun way to let people get to know more about you and your business and other fun things. The quiz sticker goes beyond allowing you to ask your audience a question by letting you add the answers too. You can have as many different answers as you want and your audience can select which they think is the right one. Ideally, give them three or four different answer options.
You could ask questions like, "How many years have I been doing what I do?" or "Who works with me behind the scenes?"
It's human nature to be curious and want to know the right answer. People will naturally be drawn in and interact with your story quiz just to see what the answer is.
Discovery of the Week
Simple UTM is a helpful tool for anyone overwhelmed by creating UTM URLs for their marketing campaigns. This tool helps build campaign URLs and saves them in one place online.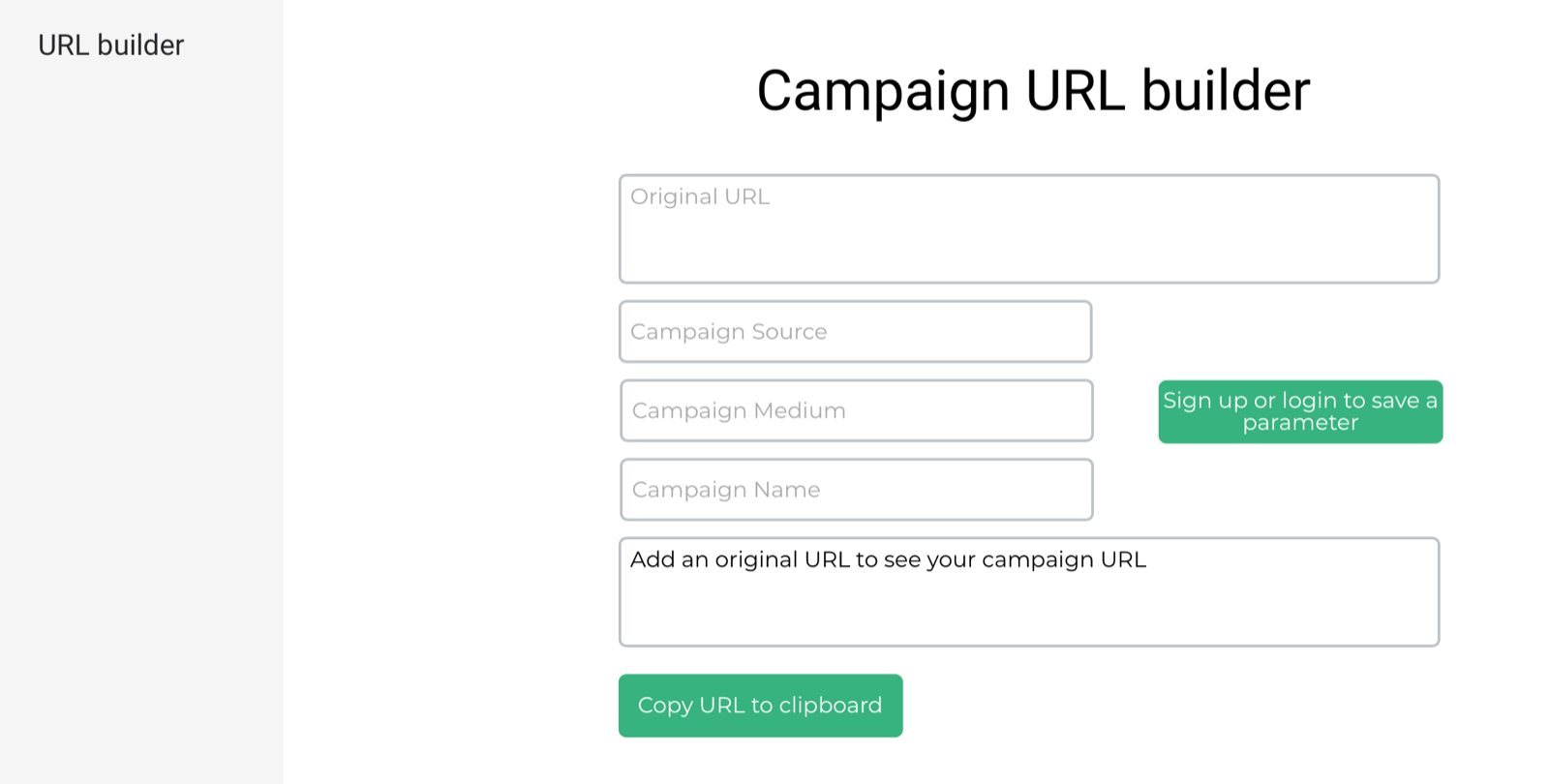 To create your campaign URLs, add your original URL and then type the source, the medium, and name for your campaign into Simple UTM's Campaign URL builder interface. As you type, the new campaign URL with your UTM parameters is created. You can save as many different parameters as you like and use them again at any time.
For example, you can create and store a variety of individual UTM parameters for Facebook, LinkedIn, Twitter, and more within the Simple UTM tool. Then pull them up at a moment's notice. If you're working with a team, this tool can be a valuable resource that lets everyone use the same parameter and provides consistency to your analytics and reporting.
You can find Simple UTM for free online. Create an account and start building your UTMs.
Listen to the show to hear more about Simple UTM.
Key Takeaways From This Episode: