This article was originally published on the Social Media Examiner blog
Do you want to optimize your Facebook ads? Wondering what the best audience, creative, and placement are to use for your message?
To explore how to test your Facebook ads for optimal results, I interview Andrea Vahl. Andrea is a Facebook ads expert, the author of Facebook Ads Made Simple, and she runs a course called Facebook Advertising Secrets. On the side, she's also a standup comedian.
Andrea shares why it's important to test your Facebook ads. You'll also learn Andrea's method for testing Facebook ads and using Google Analytics to refine your results.
Read a summary of the interview below. To listen to the interview, scroll to the end of this article.
DIGITAL BUSINESS TOOL
How to Test Your Facebook Ads for Optimal Results
Social Media Examiner
|
May
03,
2019
|
Why Testing Facebook Ads Is Important
Testing lets advertisers uncover what works best for their ads so they can iterate on that to generate more business or increase their leads—getting better results for less money. To illustrate, Andrea has seen testing lower cost per acquisition from $100 to $25.
Often when marketers say that Facebook ads don't work for them, they simply haven't tested enough variables or the right variables to accurately determine what's working and what to improve.
They tend to change too many things at once or lose sight of the one specific adjustment that might make the biggest difference in their results. In either instance, it helps to be both strategic and systematic about testing Facebook ads.
How to Budget for Testing Facebook Ads
The budget you allocate to testing Facebook ads depends on a number of factors such as your niche, your product, the market, the type of audiences you're targeting, and so forth. You should also consider the significance of your results and the cost of your objective as you set your testing budget. To visualize this, you'll spend more to test ads with a cost per lead of $25, than a cost per lead of $3.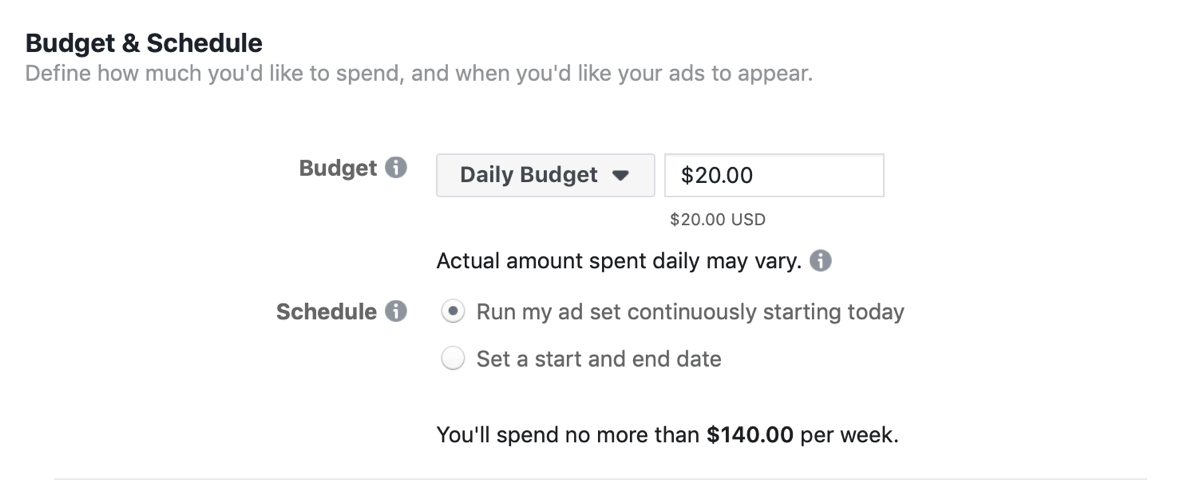 Generally, Andrea recommends businesses start by allocating 10%–20% of their full advertising budget for testing and view it as an investment, knowing that it's unlikely that their first ads will yield great results. However, continuing to run tests over a long period of time allows the advertiser to define what's working for their brand and increases the ROI on the rest of their ad budget.
A Method for Testing Facebook Ads
When you want to test something, Andrea recommends creating a completely new ad set for testing rather than editing an existing ad set. Making changes to an existing ad set will affect its momentum, and will make it difficult to track changes to the performance data or variables you are testing.
If you want to reuse creative that's already published on your business profile, do so by selecting Use Existing Post at the ad level within Facebook Ads Manager. From there, you can build a new test around a different audience or placement without losing all of the social proof of the original post.
Identify Responsive Audiences
Andrea's method for testing Facebook ads starts with creating potential audiences based on different interests, keywords, and targeting. The narrower each audience and their sources are, the more accurate your results will be. Test an ad that you think will perform well across multiple audiences to see which audience responds best.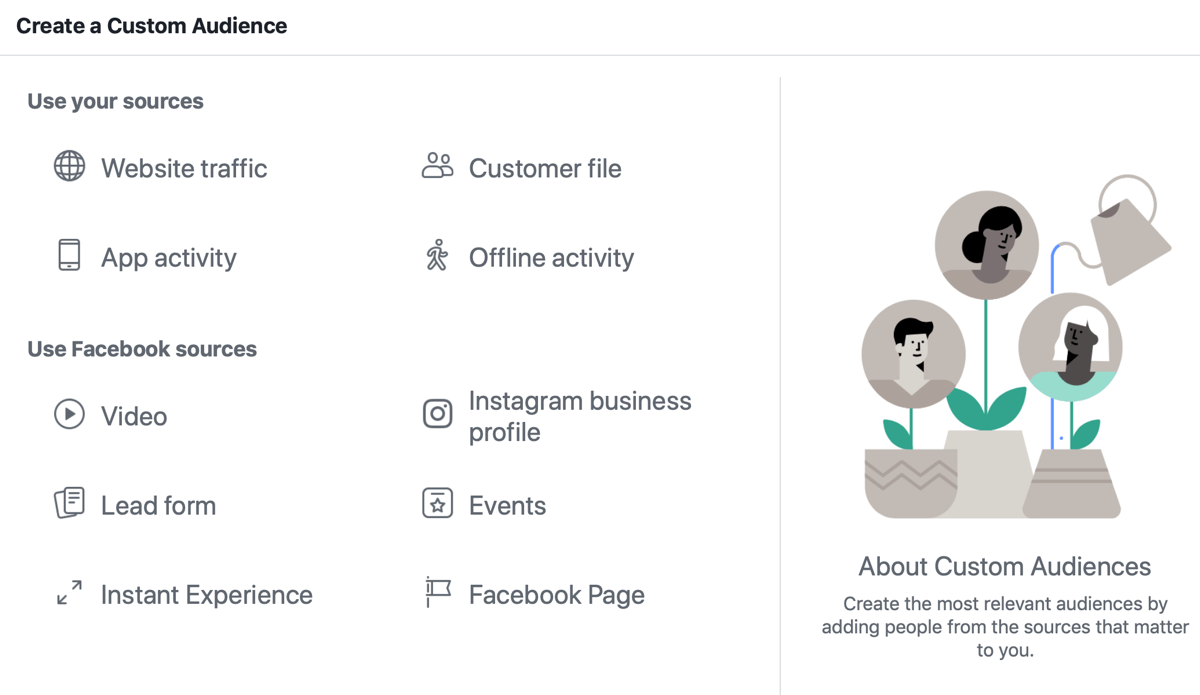 The number of different audiences and variables that can possibly be tested will greatly depend on the size of your budget. While a large budget ($5000, for instance) allows you to continually test and optimize your ads and your audiences, a smaller budget might limit you to testing against 10–20 ad variables with five different audiences.
Andrea recommends testing potential audiences you've created using specific interests or keywords against high-value lookalike audiences. She also suggests further comparing these cold audiences to warmer retargeting audiences within Facebook to test your campaign.
Listen to the show to hear more about Andrea's step-by-step example of how she establishes testing audiences for her own clients.
Assess Facebook Ad Creative Variations
Once you determine which audiences provide the best results, the next step is to use those audiences to refine your text and visuals.
Testing text involves variations on headlines, ad copy, and calls to action. Testing creative involves variables such as single images, video, and dynamic elements like carousels.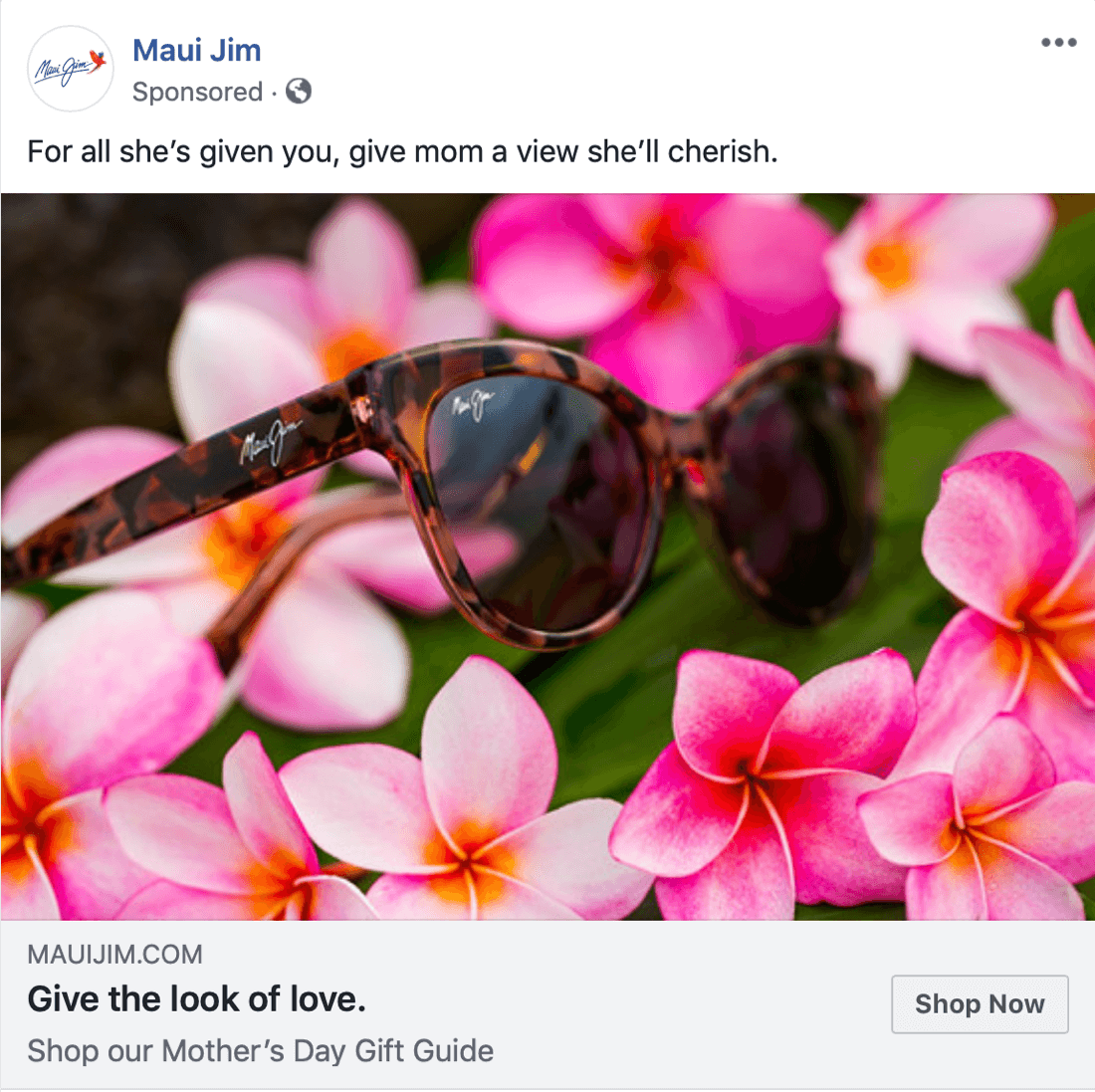 Because visuals stop people from scrolling through the news feed, Andrea says she currently focuses the first phase of testing on visuals and then moves to testing longer or shorter versions of text elements.
If you have a limited budget, you should stick with testing 4 or 5 square visuals because that format translates well in ads served on Facebook as well as on Instagram. If you have a larger budget, you can test a greater number of square visuals against horizontal or vertical orientation.
On a side note, Andrea shares that she's found that video ads, particularly those that appear to be spontaneous and unpolished, now lead to conversions and draw attention in a way they haven't in the past.
When you test video, be sure to use captions whenever possible, and to limit the amount of text on your thumbnail image. Facebook finds that images with less than 20% text tend to perform better and maintains strict restrictions on the amount of text allowed in ad images.
Listen to the show to hear more about video captions.
Determine Proper Facebook Ad Placements
Those new to Facebook advertising often don't realize they have the option to test specific placements for their ads. To illustrate, individual ads can be placed only on Instagram, in Stories, in Facebook Marketplace, or in the right column of Facebook on desktop.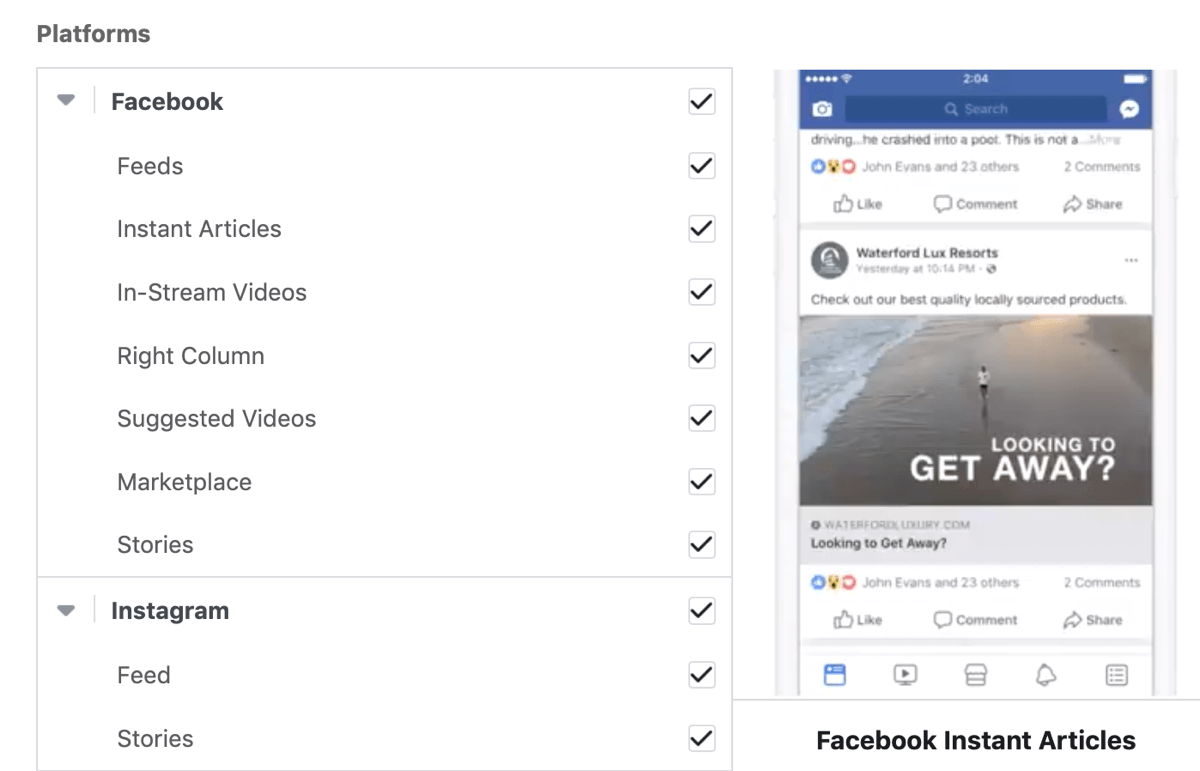 Managing individual ad placement is important because choosing all placements (or Automatic Placement) gives Facebook the authority to funnel too much of your budget into placements you may not have intended to leverage. Andrea has found that controlling her individual ad costs by placement delivers better cost per lead and Facebook ad relevance scores.
After you test ad placements, use the breakdown report to manage how your budget is being funneled into each placement on Facebook, as well as on Instagram and Messenger. Based on what you see, you can easily start and stop ads in different placements without disrupting the ads running elsewhere.
Consider experimenting with mobile versus desktop placements, too. At Social Media Examiner, we discovered a dramatic difference between these two types of placements. Desktop users not only spent more time on the site but they also generated more conversions than mobile users when it came to a particular type of remarketing ad for Social Media Marketing World.
Listen to the show to hear Andrea discuss recent data gathered by Socialbakers on specific low-cost ad placements on Facebook.
Analyze Test Results to Refine Facebook Ads
After setting up some initial tests, the next step is to analyze the results and use this information to further refine your ads. Having a strong naming convention for your ad sets and the differences in the tests help streamline this process.
Release a test ad and allow it to run for at least 3–4 days. This duration provides a strong baseline for the ad's performance. Analyzing the results could take as little as half an hour to an hour, depending on the number of ad sets you're examining.
Assess Test Results in Facebook Ads Manager
Begin by looking at clicks measured on the Performance Chart, which is a default report within Facebook Ads Manager. From there, you can customize the metrics you view by adding standard events or custom conversions to see how far into the customer journey people get. You can also add columns to track return on ad spend and other specific objectives to your report.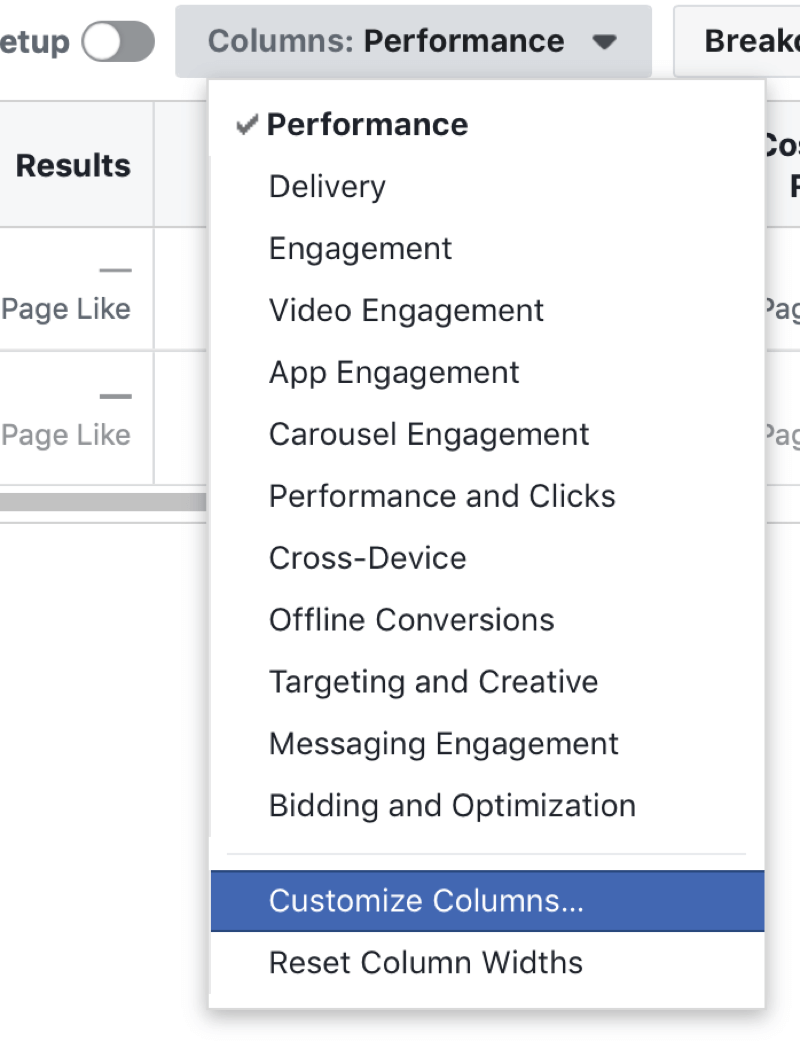 As you comb through the data, filtering and sorting brings the best performers to the top of the page quickly and identifies which audiences, placements, and creative to elevate. You can also use this reporting to break down different options (such as age ranges or geographic location) to discover further opportunities for refinement.
Inform and Refine Your Facebook Advertising Results With Google Analytics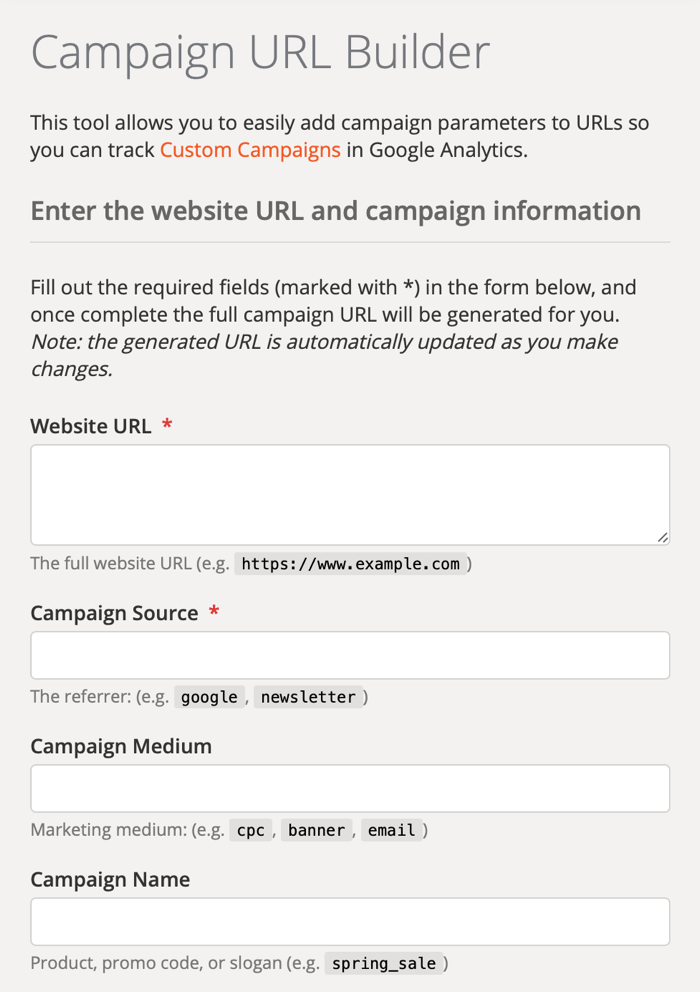 Facebook doesn't always report leads and attributions correctly and has been known to over-report in certain cases. To double-check your results, you can use Google Analytics and Google UTM tags to accurately determine which of your ads are actually driving the actions and conversions your brand wants to see.
In some cases, Google Analytics goes even further by providing information Facebook isn't currently capable of providing. This includes advanced metrics such as Time on Page—which reports how much time users spend interacting with your site, and the ability to compare user behavior differences between ads seen on mobile and desktop.
For example, if people who click through on your ads from desktop spend more time on your landing page than people who click through from mobile, you might consider putting more of your budget behind desktop placement.
Avoid Ad Burnout With Facebook Ads Delivery Insights
If you're worried too many people may be seeing your ad too often, you can use the Delivery Insights dashboard to view the first time impressions ratio.
This metric differs from the frequency metric; rather than showing an average of how often your audience sees an ad, the impression ratio will reveal the percentage of people who are seeing your ad for the first time.
When the impression ratio of first-time viewers lowers to 50%, 40% or 30%, you may need to serve a different ad.
Discovery of the Week
PreTube is a free Google Chrome plugin that helps you set up your YouTube videos for optimal discovery.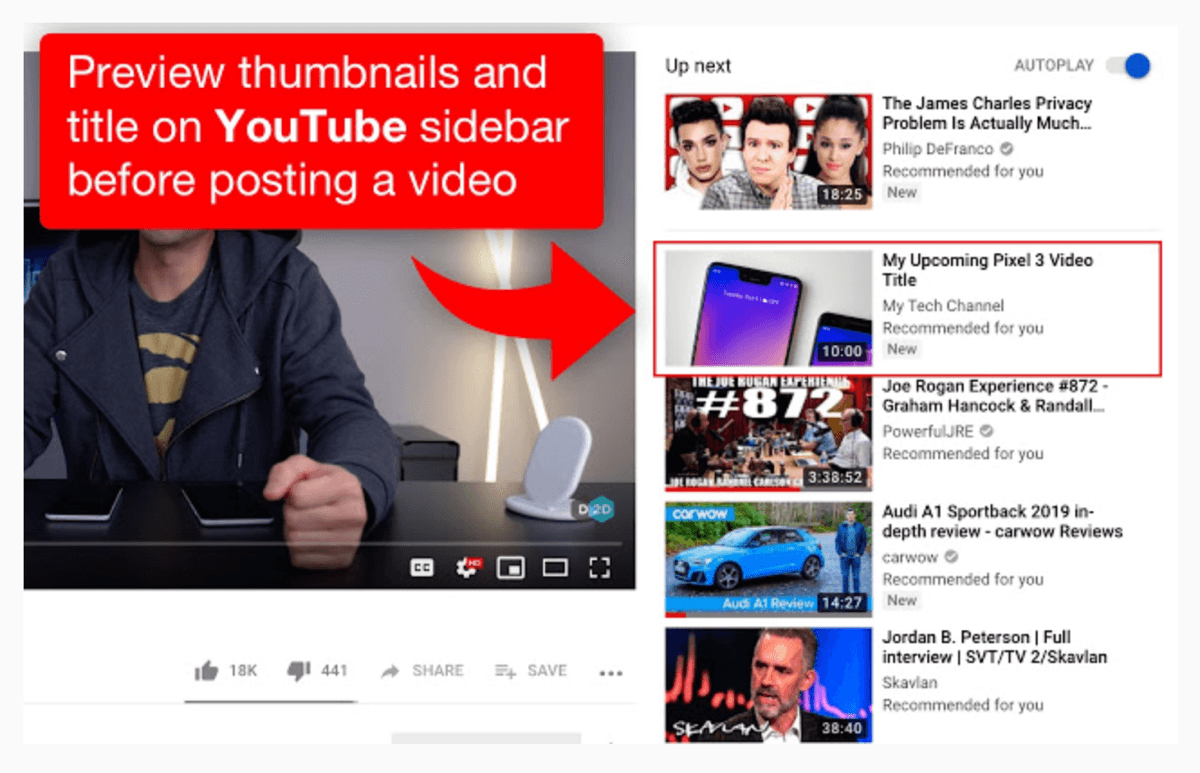 Once you install PreTube onto your browser, you can upload an image, add your channel name, and add a description for your YouTube video. This tool will then provide a mockup of how your video's thumbnail will appear inside the YouTube sidebar before you actually post it. This is helpful for determining how easily the title or text can be read, detect any possible formatting issues, and find other problems before uploading an entire video to YouTube.
You can find PreTube in the Google Chrome Web Store.
Listen to the show to hear more about PreTube.
Key Takeaways in This Episode
Listen to the Interview Now
The Social Media Marketing podcast is designed to help busy marketers, business owners, and creators discover what works with social media marketing.
Where to subscribe: iTunes/Apple Podcast | Android | Google Podcasts | Google Play | Stitcher | TuneIn | Spotify | RSS